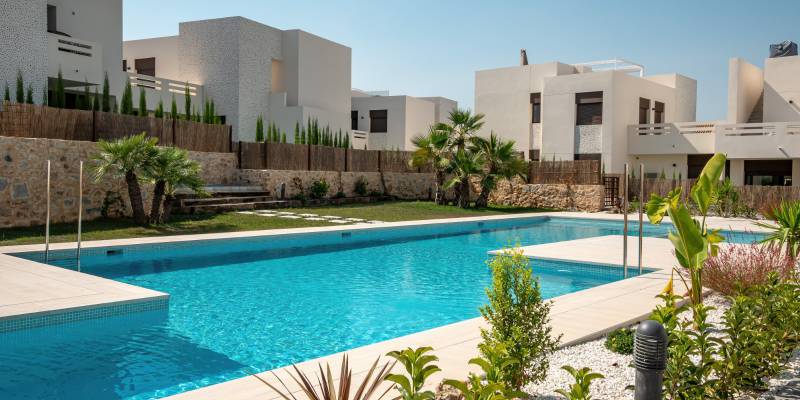 At Casas Connect we have a wide range of New-Build properties available spread across the Costa Blanca. Independant Villas, semi detached properties and apartments. Located on our fabulous golf courses, busier towns or even sunny beach fronts.
We collaborate directly with the promotor/builder and have live access to latest information; new promotions, discounts and availability.
Our experience with new build properties is amazing. Of course, the client will first get to see the design and set up of the properties from the show houses, and once reserved they can choose from a selection of materials and different options making their property completely bespoke.

New build properties are also designed to be more energy efficient, something we consider very important nowadays, this will also help maintain their value.
This is another great aspect! The builders guarantee is 10 years, this will cover the property structure itself, it really helps our clients feel secure and confident when purchasing a new build property.
After visiting the show house and deciding on a property from the selection available, the first step would be the reservation and deposit, this is approximately 5.000€. Then we will move on to the purchase contract which involves another payment of around 30-50% (usually flexible). In this contract the client will see the scheduled timescale of the build and each stage of the construction. During the build procedure we would arrange various visits to the site to check the progress, we will also assist with the communication between the client and builder to determine any build preferences. Closer to completion we ensure we have all the correct legal documentation for the property and assist with the final property inspection. On completion of the purchase at the Notary, we will translate and go through the deeds with you, the pending balance will be paid and you will receive the keys!
Image gallery